About Us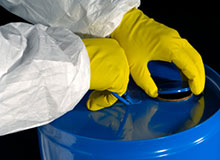 Industrial Chemical & Scientific Co., Inc. was established by its founder and owner, Charles Paul Mills, in October 1974, and has continuously served the South Texas area in providing repackaged solvents and acids and technical grade chemicals for private label to its valued customers. The company takes pride in providing hard to find chemicals, specialty packaging, and value based pricing as a hallmark to the various products handled and distributed by the company.
The company has enjoyed outstanding relationships and distributorship status with leaders in the chemical industry including Aqua Solutions, Fisher Scientific, VWR Scientific, and Ricca Testing Solutions. As a long time authorized dealer for those chemical providers, the company has access to entire product lines and is able to offer favorable pricing in connection with listed manufacturers' suggested sales prices.
The company strives for customer satisfaction, and invites inquiries, orders, and questions so that it can provide to each and every customer a reliable, cost effective, timely solution to all specialty chemical packaging and laboratory equipment and supply needs.